Baring it All : Women's Sexual Health & Reproductive Survey
On this Page:
The "Baring it All : Women's Sexual and Reproductive Health Survey", was developed and launched on International Women's Day 2021 with the goal of eliciting a stronger understanding of patients' experiences and identifying information gaps across different stages of life. Women+ were asked about their experiences and insights about contraception, family planning, menopause, sexual health, and parenting. The intent of the survey was to be inclusive of the LGBTQ2S+ community.
The onset and diagnosis of inflammatory arthritis, rheumatic and psoriatic diseases affects people at any age including child-bearing years. Individuals are often left with a variety of reproductive and sexual health-related concerns related to contraception, menopause, family planning, and parenting.
The survey results will help our efforts to continue raising awareness and advocating for better care and health outcomes for women+. The insights and testimonials provided will also help guide the development of programs and resources to support the community. We are committed to knowledge translation boldly sharing the journey and impact on those living with various forms of Spondyloarthritis.
Share & Download our Infographics & Resources!
We have developed several assets to support our awareness and advocacy efforts. Please share them on social media to help raise awareness!
Click on any of the below infographics to view in full size.
You can right click -> "Save As" to save locally to your device, or you can click on the appropriate social media icon in the top left corner of each image to share to your preferred social media platform!
Baring It All: Women's Sexual And Reproductive Health – Official Website
Visit our project website at BaringItAll.ca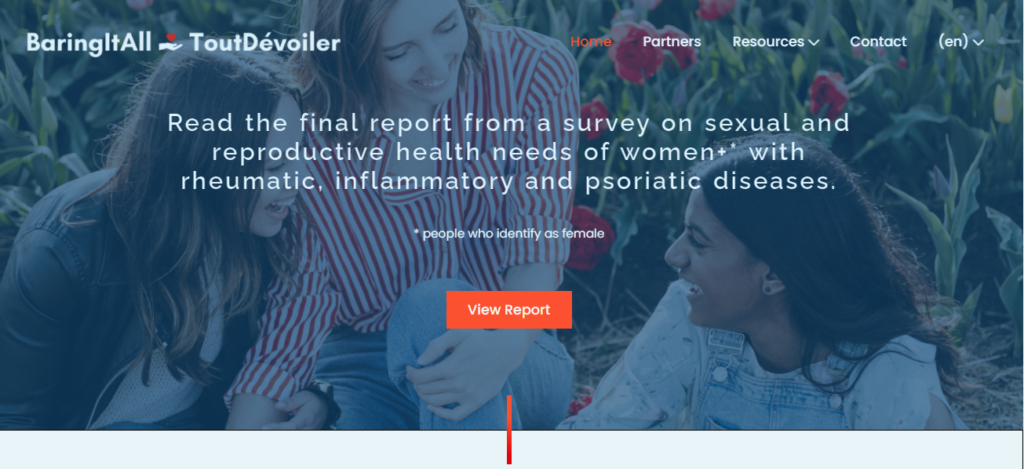 This project was supported by UCB Canada and completed in collaboration the Canadian Arthritis Patient Alliance (CAPA), the Canadian Association of Psoriasis Patients (CAPP), the Canadian Psoriasis Network (CPN), and the Canadian Spondyloarthritis Assocation (CSA)